Plan International
Conferences in your Institution
Planning a conference on campus can be a great way to bring together experts, researchers, and students from different fields to discuss important issues and share ideas.
607 +
International Conferences
150 +
Countries
500 +
Collaborations & MoU
36,745 +
Delegates
49,624 +
Publications
Why to Divert from your academic schedule
when you are a part of IFERP?
Let's not be Local in Planning a Scientific Event, Let's be Global in Organizing them!
We and our community makes our world. Join now & Get the Conference organized by IFERP in their Institution!!
Why IFERP ?
Scientific Conference
Management Systems
Join the Community
to organize
Global Promotion and
Networking
Infrastructure &
Convenience
Corporate Services
& Assistance

Publications &
Citation
Complimentary
Opportunities
Tools and
Technologies
Scientific Conference Management Systems
Join the Community to Organize
Organizing a conference for a specific community requires a slightly different approach than organizing a general conference.
Identify the Purpose and Goals : Determine the purpose and goals of the conference. What are the key objectives? What are the benefits that attendees can expect? Identify the specific needs and interests of the community.
Define the Conference Scope : Define the scope of the conference in terms of the geographic region, demographic, and interests of the attendees. Who are the target attendees? What are their interests and needs? Determine the size of the conference.
Develop a Program : Develop a program that addresses the specific needs and interests of the community. Identify and invite speakers who are experts and thought leaders in the field. Create opportunities for attendees to network, share ideas, and collaborate.
Global Promotion and Networking
Infrastructure & Convenience
Conference infrastructure and convenience refer to the physical and logistical elements that are necessary to make a conference successful and easy to attend.
Venue : The conference venue should be easily accessible and have ample space to accommodate the number of attendees.
Audio-visual equipment : The conference should have high-quality audio-visual equipment, including microphones, speakers, projectors, and screens, to ensure that everyone can hear and see the presentations clearly.
Food and beverages : It is important to provide attendees with food and beverages throughout the conference, including snacks, coffee, and water.
Networking opportunities : Conferences should provide ample opportunities for attendees to network and connect with each other. This can include designated networking sessions, social events, and breakout sessions.
Corporate Services & Assistance
Logistical Support : This may include services such as venue selection, transportation, accommodation, and equipment rentals.
Event Planning : This may include services such as developing event themes, creating event schedules, coordinating speakers, and managing event budgets.
Registration and Attendee Management : This may include services such as creating online registration forms, managing attendee databases, and providing onsite support.
Marketing and Promotion : This may include services such as creating marketing materials, managing social media campaigns, and promoting the event to target audiences.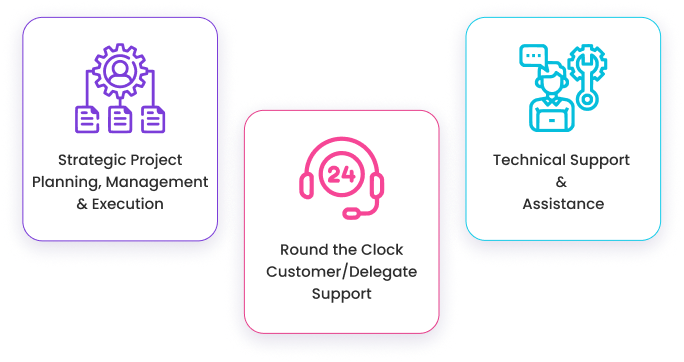 Publications & Citations
Complimentary Opportunities
Complimentary opportunities are offered by IFERP as a way to provide additional benefits or value to customers or clients. These opportunities can come in various forms, including free products or services, exclusive access to events or experiences, discounts on purchases, or special perks.
In the context of conferences, complimentary opportunities can refer to perks or benefits that are provided to attendees beyond their basic registration fee. For example, a conference may offer complimentary refreshments or meals during the event, provide access to exclusive networking opportunities or VIP areas, offer free conference materials or resources, or provide discounts or vouchers for local attractions or services.
Tools & Technologies
Project management tools : There are software platforms that help teams collaborate, plan, and execute projects by tracking tasks, deadlines, and milestones.
Cloud computing services : There are platforms that provide on-demand access to computing resources like servers, storage, and databases.
Communication and collaboration tools : There are platforms like Zoom, or Microsoft Teams that enable real-time messaging, video conferencing, and file sharing across teams and organizations.
Just not a Conference, Let's Plan a Summit!
Planning a summit can be a great way to bring together experts, leaders, and stakeholders to discuss important topics and make progress on shared goals. Here are some things to consider when planning a summit:
Define the purpose and goals : What are the key issues you want to address, and what outcomes do you hope to achieve? Make sure you have a clear and concise purpose statement that can guide your planning efforts.
Identify the target audience : Who do you want to invite to the summit? Consider the expertise, influence, and perspectives of potential participants, as well as their availability and willingness to participate.
Choose a venue and date : Look for a location that is easily accessible and can accommodate your desired number of attendees. Choose a date that works well for your target audience and allows enough time for planning and preparation.
Develop a program : Create a detailed agenda that includes keynote speakers, panel discussions, breakout sessions, and networking opportunities.
Promote the summit : Use a variety of marketing channels, including email, social media, and targeted advertising, to reach your target audience and generate interest in the event.
Professional Membership Statistics
Know Our Clients
Over 500+ Institutions/Universities organized IFERP International Conferences in their institutions
Trusted by Several National Universities
IFERP
Typically replies within an hour
IFERP
Hi there 👋
How can I help you?
×
Message Us