IFERP Youth Empowerment Programs
IFERP Youth Empowerment Programs are behavioral, structural, and cultural processes through which young people acquire the ability, authority, and power to make decisions and implement changes in their own lives and in the lives of others, including young people and adults. We view empowerment broadly as increasing the freedom of choice and action of the poor to shape their own lives. It is our belief that this implies control over resources and decisions.
IFERPs Youth Empowerment Programs are built on the idea that young people are the best resource to promote development and they are agents of change to meet their own challenges and solve their own problems. IFERP believes that all youth, irrespective of their cultural and socio-economic backgrounds are strong enough to give due consideration to and meet the needs and desires of others.
Upcoming Youth Empowerment Programs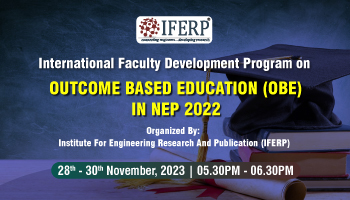 This IFDP provides an exceptional opportunity to open doors to infinite possibilities to explore the concepts and methods of Outcome Based Education within the context of National Education Policy 2022. By participating, you'll equip yourself with the knowledge and tools necessary to drive educational excellence and empower students for success in the rapidly evolving world.
Date : 28 - 30/11/2023 | Time : 05:30 PM to 06:30 PM (IST)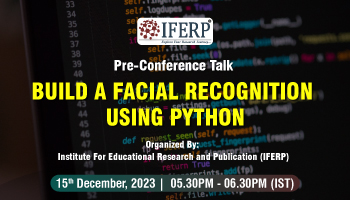 A pre-conference talk on Building Facial Recognition Using Python offers you an exciting glimpse into the world of biometric technology and computer language. By participating, you'll update yourself with the knowledge necessary to drive educational excellence to success in the rapidly evolving world.
Date : 15/12/2023 | Time : 05:30 PM to 06:30 PM (IST)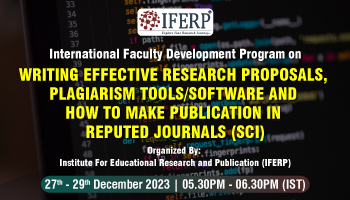 Learn about how to write an effective research proposal to publish papers in reputed journals by attending our program on "Writing Effective Research Proposals, Plagiarism Tools/Software, and How to Make Publications in Reputed Journals (SCI). By gaining knowledge from this program, you will be able to present your research in a way that appeals to grant committees and potential collaborators.
Date : 27 - 29/12/2023 | Time : 05:30 PM to 06:30 PM (IST)
Youth Empowerment Objectives
Allowing young people to acquire knowledge, skills, and techniques that will help them in their personal lives and social growth as well as fostering within them sensitivity to the problems of society.
Promoting societal integration and international understanding by developing youth leadership and providing a forum for young people from diverse backgrounds.
Promoting international cooperation and exchanges between people of different cultures.
Encouraging initiatives to unfold the potential of young people through a constant process of self-assessment and self-assessment-exploration
Promoting research in youth work.
Youth Empowerment Training Enhances
PROPOSAL FORM FOR INPLANT TRAINING
IFERP
Typically replies within an hour
IFERP
Hi there 👋
How can I help you?
×
Message Us